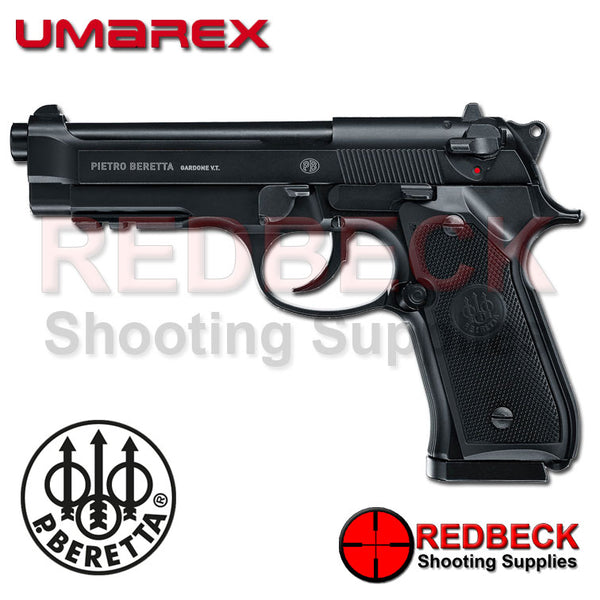 DESCRIPTION
An all-metal, 18-shot BB version of the famous Italian (and American) service pistol, with a realistic blowback effect. It weighs a full kilogram, just like the original.
This Umarex Beretta M92A1 is a full-metal CO2 blow-back pistol with a remarkably realistic feel to it - ideal for those pistol lovers who appreciate a stunning appearance backed up by superb performance.
This pistol fires 4.5mm steel BBs at a velocity of approximately 280 FPS, which is ideal for plinking and casual target shooting at distances of around 10 meters. The drop-out magazine has a capacity of 18 BBs.
The pistol is powered by a 12g CO2 capsule, which provides around 50 shots.
The double-action trigger means that it can either be fired repeatedly by pulling the trigger, or the hammer can be cocked first to allow the trigger to have a lighter pull for better accuracy.
SPECIFICATION
| | |
| --- | --- |
| Caliber | 4,5 mm (.177) BB |
| Power Source | CO2 |
| Magazine capacity | 18 shot(s) |
| Safety | Firing pin safety |
| Length | 215 mm |
| Barrel length | 124 mm |
| Weight | 1061 g |
| Velocity | 90 m/s |
| Trigger | Double Action |
| Special feature(s) | Blow Back |
| Energy | 1,3 Joule(s) |
VIDEOS