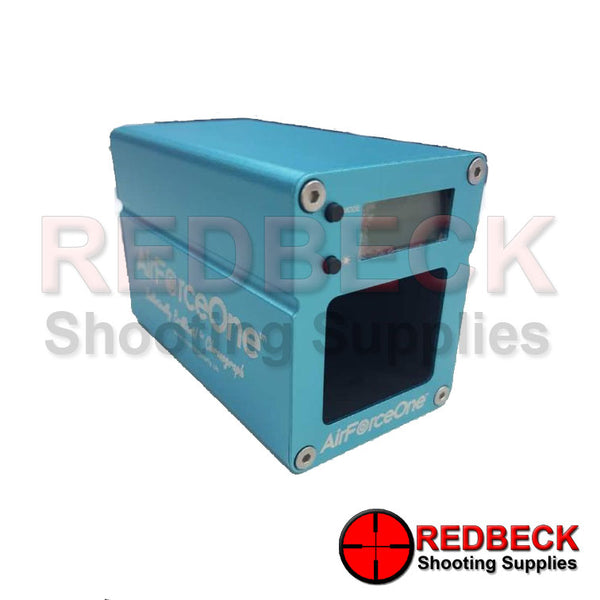 DESCRIPTION
New Air Force One Chronograph is design is light (Only 230 grams), fully portable, and powered by an internal re-chargeable battery, making it ideal for use in the field. Designed to not only measure Pellet Velocity and Rate of Fire with an accuracy tolerance of: <+ 1.3%, it also records the ambient temperature and humidity at the time of the shot.
This can be very useful, when testing the power levels of CO2 powered guns which are particularly sensitive to changes in both temperature and humidity. All measurements are displayed on a clear LCD screen, which can be back-lit for use in low-light conditions.
All this data can be downloaded for strings of up to 50 shots to the Shooters laptop or PC using the USB data cable supplied. Install the down-loadable app from the link provided in the user manual and you can input data, such as pellet weight, to calculate muzzle energy in ft/lbs (FPE) or Joules. The unit measures velocities of between 49 and 2789 feet per second, more than enough range to record even the most powerful FAC PCP.
The Chrono. is also supplied with a USB charging cable and is screw-cut on its base to allow use with an optional Tripod. Couple these exceptional features with the low retail price of only £119 and we believe we really do have a 'Ballistically Brilliant' Chronograph
This chronograph is ideal for shooters who want to fine tune their rifle or meausre the velocity of different pellets to ensure optimum rifle performance.
SPECIFICATIONS
VIDEOS