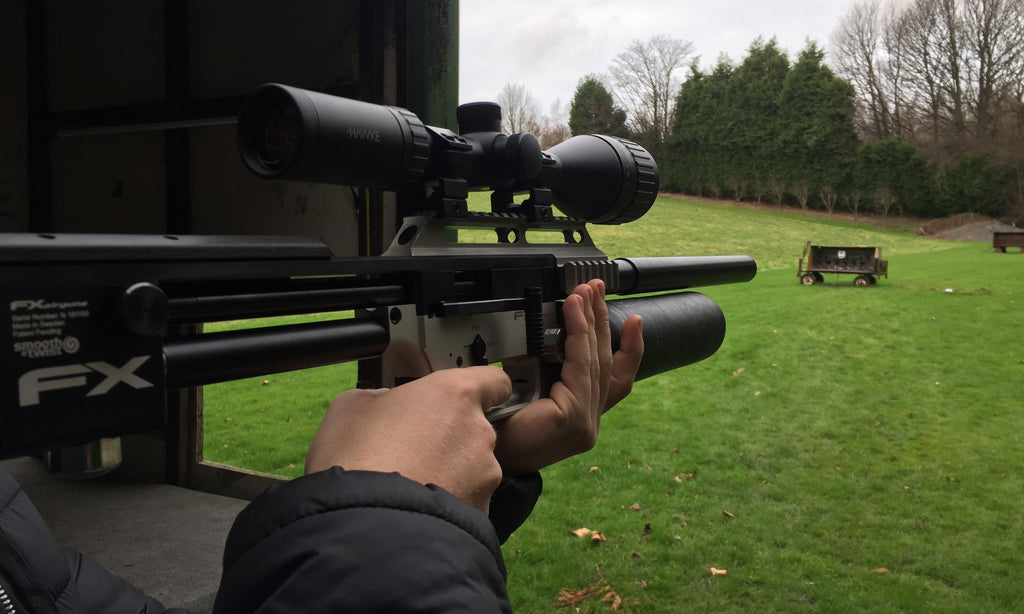 First impression of the FX Impact
My first impression of the FX impact is wow that's different. Don't get me wrong this gun will be very much a marmite gun, some people will love the way it looks and some will hate it. However looks aside, the FX Impact It is quite possibly the most adaptable and innovative airrifle I've seen in  a long time. 
The bull pup action means the gun's centre of balance is set back making it easy to hold and ideal for free standing shots. As well as being extremely light and well balanced the rifle comes up to the eye well unlike some other bull pups.
I have heared a lot about FX's smooth twist barrels and was keen to try out the accuracy of the impact. On the range the impact was great on accuracy, although the .177 I was testing did seem slightly pellet fussy. Eventually I settled on JSB Exact 4.53 head size which seemed to suit this particular rifle very well.
I decided to try using the power adjuster and messing round with the power to see how that might affect the groupings at 30 yards I could tell little difference and the rifle grouped very well on all the different power settings.
The trigger is fully adjustable and the blade is a target style and is adjustable for fine tuning of your trigger finger position. Once setup to my own style the rifle felt even more comfortable in hand.
The huge carbon-fibre buddy bottle couple with FX's smooth twist barrel and it's air efficient regulator means the number of shots that this gun will do is just staggering. After a couple of hundred I literally lost count.
The Impact has a built in moderator in the form of an extendable shroud. On first examination I must admit I was a bit skeptical as to whether or not the gun would be quiet enough. However once the shroud was extended I was amazed to find that it was unbelievably quiet. Personally I couldn't imagine why anyone would want to try and add another silencer on to the rifle as it simply is not needed.
The Impact's magazine is very similar to the old theoben design and although not my favourite magazine design it works well and gives you plenty of shots.
Conclusion:
Overall, the FX Impact is one of the most extraordinary rifles on the market in the UK. Personally I love it and will be adding one to my collection, however it's futuristic styling and bullpup action will not be to everyone's taste. Its revolutionary looks and leading-edge engineering innovations make this rifle very unique and I would certainly recommend anyone to at the very least try one before making up their minds.