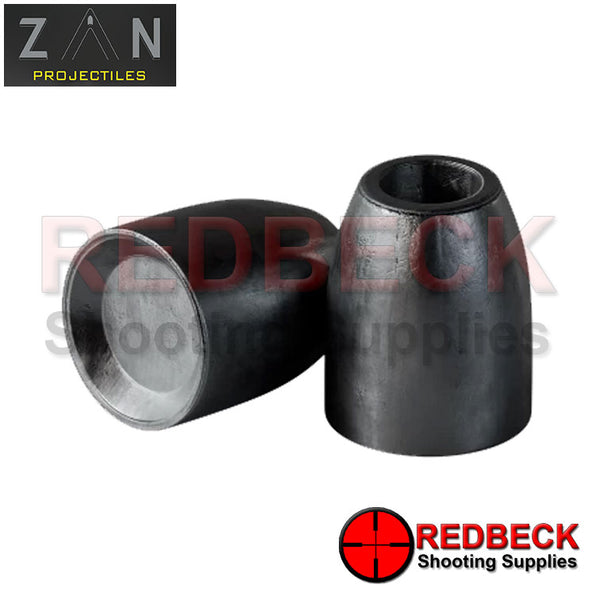 DESCRIPTION
Zan Projectiles .22 20 Grain Air Rifle Slugs 200 Pack
These airgun slugs have been developed after many hundreds of hours of meticulous testing to meet Zans high standards in accuracy, expansion, and suiting picky liners.
The .22 Airrifle slugs are extremely high quality with their deep hollow points for huge expansion. The shallow hollow dish base shape also allow these slugs to get the most accuracy whilst being suitable for as many barrel types as possible. These slugs also come in a highly packaged box to stop any damage that may occur during the shipping process.
The 20 grain slugs work well with sub 12ft/lbs airguns. Built to a unique design the 20gr and 23gr are a popular choice with target shooters and hunters. Working on a barrel adopting size principle these slugs have a deep expanding skirt to ensure a tight grip of the rifling and therefore a greater accuracy. In addition to the skirt dimensions, the ammo benefits from a shorter overall length and longer contact surfaces. These enhanced surfaces ensure that the slugs stay dead true in the magazine, eliminate mag spinning and present to the chamber in a uniform way. It is these characteristics that improve accuracy and consistency in lower powered guns. Built for improved performance at lower speeds the 20gr and 23gr slugs have been designed shorter and with a hollow point to stabilise better/faster/easier in break barrel and 12ft/lb PCP rifles where twist rates are typically slower than their FAC counterparts.
SPECIFICATION
| | |
| --- | --- |
| Slugs Per Box | 200 |
| Weight | 20gr - 1.29g |
| Diameter | .217 / 5.51mm |
| Length | 20gr - 0.26" / 6.6mm |
| Ballistic Coefficient | 20gr - 0.070 |
VIDEOS