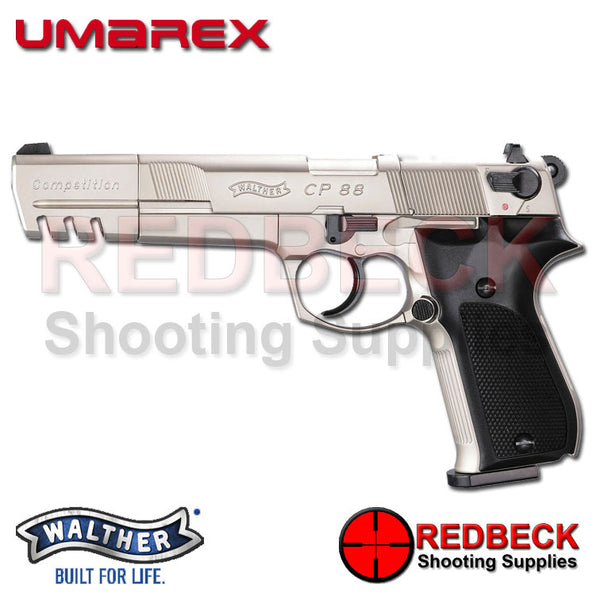 DESCRIPTION
Umarex Walther CP88 Nickel Competition is a very high quality full metal Co2 air pistol which is made by Umarex in Germany to strict standards. This model of the CP88 comes in the nickel finish, along with the 6 inch competition barrel for better accuracy and grouping, as well as a muzzle break to strip away the turbulent air as the pellet leaves the barrel.

The pistol is powered by a 12g CO2 capsule which is held within the grip of the pistol, and accessed by removing one of the grip plates. The co2 is then pressurised by means of a cantilever system on the bottom of the pistol to make inserting and reloading the co2 quick and easy.

The pistol uses an 8 shot magazine which is loaded into the top slide, which moves forward to expose the loading position directly in front of the barrel. The trigger system is double action so can either be fired repeatedly, or the hammer cocked first for a lighter and more precise trigger pull.

The Walther CP88 Competition comes complete in a hard case with 2 x 8 shot magazines.
SPECIFICATION
| | |
| --- | --- |
| Caliber | 4,5 mm (.177) Pellet |
| Magazine capacity | 8 shot(s) |
| Velocity | 130 m/s |
| Energy | < 7,5 Joule(s) |
| Trigger | Single- and Double Action |
| Length | 230 mm |
| Weight | 1150 g |
VIDEOS