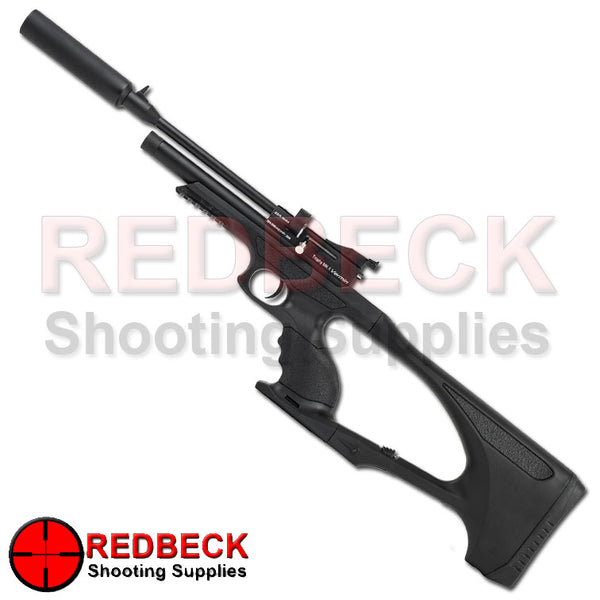 DESCRIPTION
Trophy MK2 Air Pistol Air Pistol with removable stock
"The original 'Trophy' was an instant success, with every shipment virtually selling-out before arriving in the UK and garnering ecstatic reviews from shooters, retailers and the airgun press alike, culminating in it being voted 'Best CO2 Pistol 2014'.
The new MK II models, being introduced following customer demand, offer a host of new features, including a ½" UNF silencer adapter and a compact 'Get Shorty!' sound moderator, that is only 128.5mm in length and is extremely light weight at 125 grams.
This model was found to offer the greatest level of sound suppression of all models tested -by length and weight-when tested by 'Airgun Shooter' magazine. The MK II models are available in a 9-shot (.177) Target and 7-shot (.22) Vermin versions featuring a self-indexing rotary magazine, that offers 45-55 full-power (up to 5.5ft/lbs) shots from a single 12gr CO2 capsule.
Both models feature free-floating barrels for excellent barrel harmonics which aid accuracy and a high-quality, low-maintenance, black ballistic polymer competition-style stock with a palm shelf that improves grip and control.
It also features an under fore-grip weaver rail for the addition of a bipod. In addition, all MK II models come with a quick-detach shoulder stock. 
"A classic bolt action with a wide breech makes magazine loading simple and un-fussy. The pistols are fitted with micro-adjustable rear sights and a steel blade foresight but also feature 9/11mm dovetailing designed to make fitting a pistol scope, red/green dot reflex sight or a red or green laser a swift and straightforward task.
Metal triggers (adjustable for pull pressure between approximately ½ and 4lbs) and metal trigger guards further enhance the quality construction of what we believe to be a leading challenger for the best new pistol of-2023!
Whether you are seeking to add some silverware to your sideboard, or keen to zap that monster rodent, now's the time to do it with the Trophy MK II, for ultra-accurate 'out of the box' target shooting, or for 'rapid rodent redundancy'!
SPECIFICATION
JTS Airacuda MAX PCP Air Rifle Specifications:
12gram CO2
.177 Magazine – 9 shot
.22 Magazine – 7 shot
Shot Count per Fill – 40+
 VIDEOS