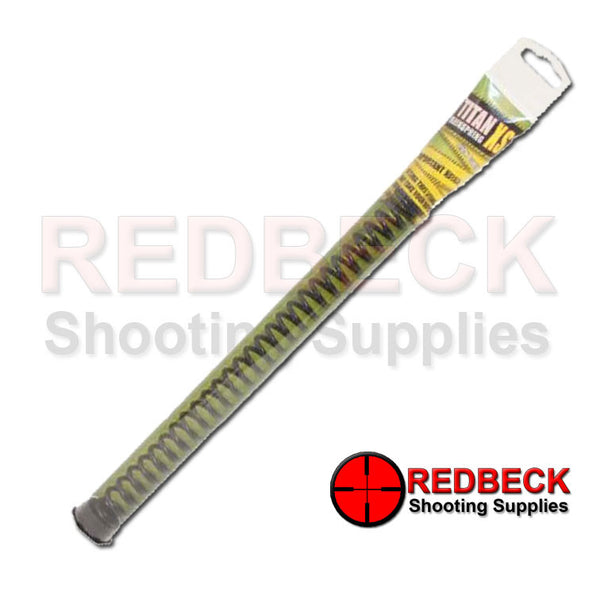 Description
For over 30 years Titan Mainsprings have been supplied worldwide to airgun enthusiasts, professional airgun customisers and the Gun Trade. Only the finest quality Grade 1 Swedish Silicone Chrome Vanadium Spring Steel is used. No mass production methods are used, each spring is hand wound to an exact specification, then heat treated and tempered to ensure ultimate performance and maximum durability. During final tempering, they are coated with a specially formulated hard, but flexible finish.
The almost friction-free operation of the Titan XS mainspring reduces the possibilities of dieseling to a minimum and increases power by up to 40% for FAC rated air rifles. 
Warning - replacing your air rifles mainspring may increase its power making it illegal. Redbeck Shooting Supplies would recommend that you seek manufacturers advice or a professional gunsmith before attempting to alter your rifle, and that you always check your rifles power using an accurate chronograph to ensure you stay within the law.
Sizes available are:
No.1 - BSA Airsporter, Mercury, Challenger, 635 Magnum, Supersport, Lightning, Xl, XLSE, Superstar, Goldstar, Centenary. Air Arms Firepower, Jackal, Woodsman. Original Mod. 34/35/36/38/45/(48/52std power), 54, RWS Firebird, Falke Mod 80-90, HW77(std power), HW99, FWB 124/127.
No.2 - HW80, Webley Eclipse(FAC), HW90 (to replace gas ram), Pro Elite.
No.3 - HW77(FAC), HW97, Orig Mod 35/45/50, Hammerli 401.
No.4 - HW35, Webley Eclipse(STD), Orig. Mod 48/52/54(FAC).
No.5 - BSA Meteor MK1-5, Diana Mod. 24/26/27/28/G46/70/71/78/79/80, Vostock.
No.6 - BSA Meteor MK6 & MK7, BSA Comet, Crosman Phantom, Mod 800, Hatsan's.
No.7 - BSA Polaris, Webley Tracker, Osprey, Excel, Viscount, Xocet, Stingray, Falcon, Hawk Mk1-3, norica, Relum (using existing inner), Baikal, Cometa 5, Haenel Mod. 303, Gamo Sniper, Commando, Delta, Apache, CF16, Rangemaster, Statical, Magnum, Gunmark Phantom, NAC, HW55 & 55T, Gamo 1000, Shadow, CSI, Whisper, Gamo 68.
No.8 - Webley Vulcan, Victor, Omega, Longbow, Tomahawk, HW95, HW98, Gamo 3000.
No.9 - Air Arms TX200 MK1 & MK2, HW57.
No.10 - Air Arms TX200 MK3, Pro Sport.
No.11 - SMK - All Models (cut to length required) Not XS38, Stoeger X20.
No.12 - Cometa 100, 200, 400, Fenix, Dragon, Comet.
No.13 - Gamo Paratrooper, CF20, CF30, CFX.
No.14 - Diana 350 Magnum, Webley Patriot.
No.15 - HW45, HW25, Orig Mod 20.
 Specification
Videos