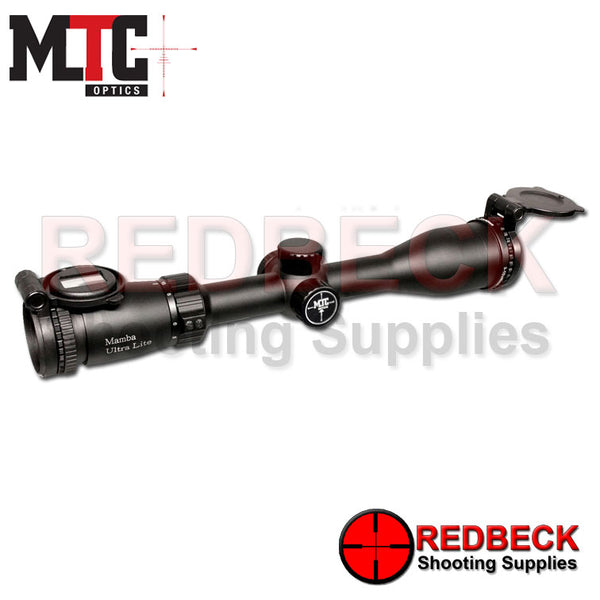 DESCRIPTION
The MTC UltraLite 3-10x40
With riflescopes seemingly getting bigger and heavier, MTC Optics' new UltraLite line offers shooters the option to keep their combos light and manageable. The inaugural 3-10x40 Ultra Lite weighs in at just 538 grams (1lb 3oz) yet maintains an array of practical features MTC scopes have become so renowned for. 
Manufactured to the same style and build quality of the MTC's ever-popular and time-proven MambaLite, but with its parallax fixed, the UltraLite succeeds the discontinued 3-9x40 Genesis UL, offering even higher performance and specification.
Sporting a traditional 25mm (one inch) body tube to keep the weight down, the UltraLite's lenses are treated with a superior multicoating to return light transmission figures almost identical to those of heavier, 30mm-tubed scopes in the same price bracket.
Besides its weight advantage, MTC Optics' new Mamba 3-10x40 UltraLite boasts numerous other shooter-friendly specifications in its design, from its mil-dot reticle through its semi-target turrets, flip-up covers – complete with magnifier – and speed focus. It also comes with a five-year warranty.
The MTC 3-10x40 UltraLite has been designed to perfectly complement light rifles, but its optical performance and specifications make it equally ideal for any quality sporting rifle.
SPECIFICATION
3-10x magnification range
40mm objective (superior multi-coating treatment)
Mil-dot reticle (true at 10x)
Semi-target turrets (1/4MOA). Finger-adjustable, with screw caps
Speed focus, with 'easy-reference' indent at 5x
Magnetic flip-up covers, with 2x magnifier in ocular to easily view turret markings
Fixed parallax at 100m (109yds)
VIDEOS