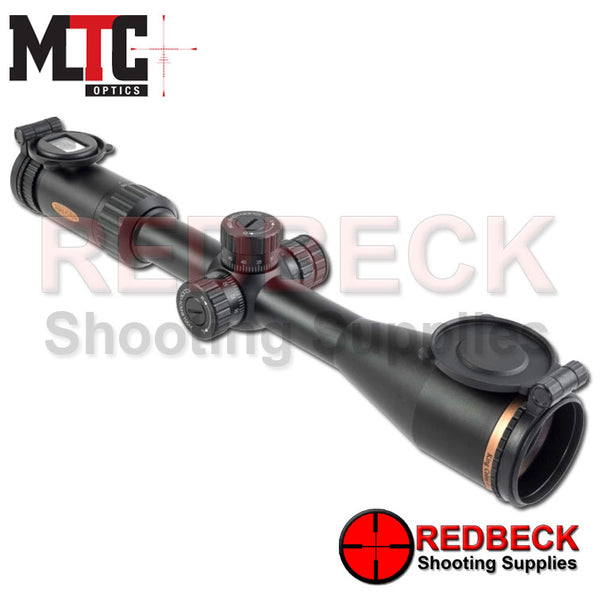 DESCRIPTION
MTC Optics Cobra F2 6-24x50 IR Rifle Scope. Featuring click-stop adjustments in MILs (1 click =1cm at 100m), actuated via lockable, fingeradjustable elevation and windage turrets, the scope is finished with distinctive a copper-coloured accents including a front band, side plates and a new copper coloured MTC Optics logo.
As usual with all MTC scopes, the King Cobra 4-16x50 F2 features MTC's SCB 2 multi-aimpoint reticle. Set in the second focal plane, it ensures plenty of aim points to counter trajectory and windage deviation yet is not too cluttered obscuring the target. The centre of the reticle can be illuminated to
one of six brightness levels in red to suit any lighting scenario.
To maximise light transmission and maintain a bright sight picture, the King Cobra 4-16x50 F2's 30mm tube has been matched to a 50mm objective lens. And like its 6-24 first focal plane sister product launched last year, the new scope features high quality lenses that have been specially coated to maximise light to eye transmission for a bright clear image on every zoom setting.
Of relevance to Airgunners is the King Cobra 4-16 F2's ability to parallax down to just 10 metres via a smooth side wheel, and in common with many other scopes in the MTC Optics line up, the Cobra 4-16x50 F2 comes complete with a set of magnetic flip covers, the rear one of which contains a 2x magnifier to help shooters read the small numbers on parallax and turret dials.
Features
Second Focal Plane reticle: offers multiple aim points without obscuring the target.
Glass-etched crosshair: design exclusive to MTC Optics
Edge-to-edge multi-coated lenses: bright, clear picture quality
Side parallax adjustment: eliminates parallax error and assists in range-finding
10-metre minimum focus: suitable for airgun use and ultra-close-range shooting
Reticle illumination: assists with tricky background and lighting scenarios
30mm body tube: more substantial build quality and light transmission
Magnetic, rotating flip-up lens cover: fast and practical protection for lenses when in the field
Fully water, fog and shock proof: increases longevity of the scope
Nitrogen purged: internal regulation of scope's high-end performance
Optional extras: objective sunshade and large parallax sidewheel also available
SPECIFICATION
| | |
| --- | --- |
| Tube Diameter | 30mm |
| Magnification | 6-24 x |
| Objective lens diameter | 50 mm |
| No. reticles available | 1 |
| Waterproof | Yes |
| Fogproof | Yes |
| Field of view | 5.7-1.42 m/100m |
| Max. elevation/windage adjustment range | 11.6 m/100m |
| Parallax correction | 15m to infinity |
| Illuminated reticle | Yes |
| Length | 14.4 in |
| Weight | 746 g |
| Finish | Matte |
| Colour | Black |
VIDEOS