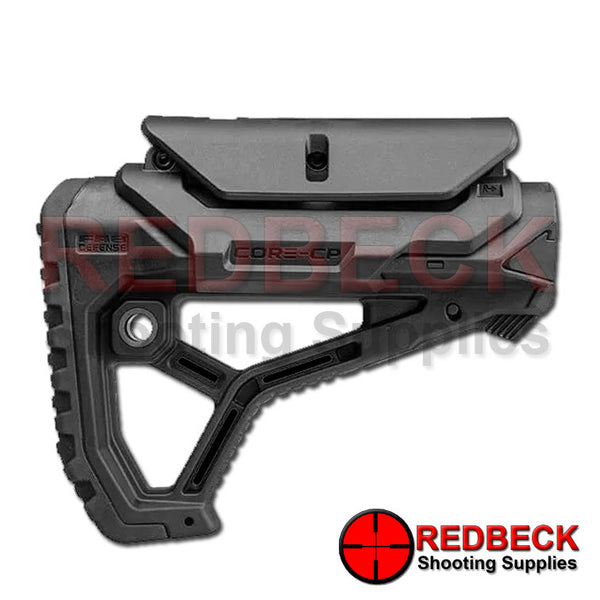 DESCRIPTION
FAB DEFENSE GL CORE COLLAPSIBLE AR15 BUTTSTOCK WITH CHEEK RISER IN BLACK
The GL-CORE incorporates an integrated cheek weld, ergonomic buttpad, and interchanging tube adapters, that provide an unmatched fit on Mil-Spec and Commercial buffer tubes, with a high efficiency and comfort level. 
This CP version includes an additional Cheek Rest, designed to support the use of different optics and holographic sights making it ideal for your airrifle.
This butt stock is ideal for FX dreamline tactical rifles, and brocock commanders etc.
ADVANTAGES:
FAB Defense AR15/M4 GL-CORE Collapsible Buttstock Advantages:
Ergonomically shaped rubberized butt-pad for quick shouldering and easy manoeuvring of the weapon
Interchangeable buffer tube adapters for a tight fit on Mil-Spec and Commercial buffer tubes
Integrated cheek weld in an overall compact and sleek design
No protruding parts, will not get caught on gear or webbing
Inversed positioning lever will not open accidentally
Two integrated quick-detach rear sling swivel connectors
Made of durable and light-weight fibreglass reinforced polymer composite
SPECIFICATION
VIDEOS