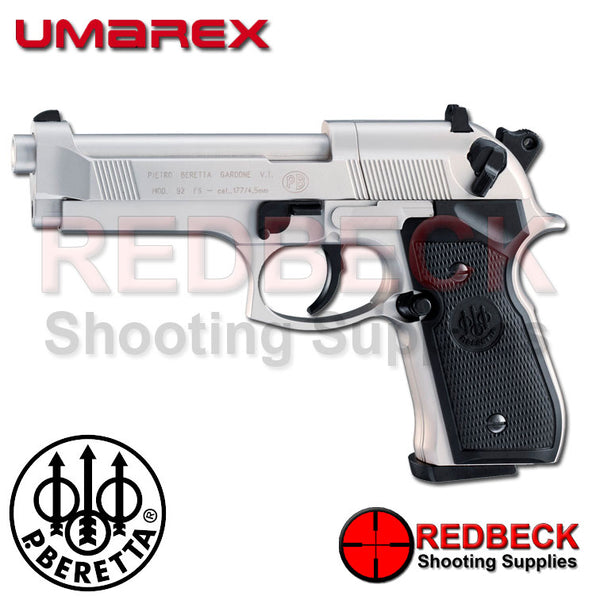 DESCRIPTION
 The Beretta 92FS Nickel C02 Pistol is renowned the world over.
There is a good reason that special forces, armies and Police throughout the world trust in the legendary Beretta 92FS Pistol. Based upon the original, the Beretta 92FS Nickel is an incredibly realistic airgun version of the 92FS and a "must have" for collectors and and weapons enthusiasts.
The air pistol is an eight shot repeater with rear sight adjustable for windage. The 92FS has a rifled barrel making it more accuate than some of it's competitors. The 8-Shot cylinder magazine can easily be exchanged and the pistol comes with two magazines. The release lever is slightly pushed downward, so that the slide opens automatically. The empty cylinder is replaced by a loaded one and the slide closed again manually.
SPECIFICATION
| | |
| --- | --- |
| Calibre | 4,5 mm (.177) Pellet |
| Magazine capacity | 8 shot(s) |
| Velocity | 120 m/s |
| Trigger | Single- and Double Action |
| Length | 210 mm |
| Weight | 1260 g |
VIDEOS